On our client's side of the desk. First, foremost and forever.
Greenleaf Trust is a comprehensive wealth management firm with specialized disciplines in goals-based wealth management, personal trust and retirement plan services. As a privately held and managed trust-only bank (one of Michigan's first), our independence frees us from conflicts of interest and ensures that our client's well-being is at the center of everything we do. Client-aligned and talent-driven, we adhere to the highest standards of fiduciary excellence while providing personalized service that exceeds expectations.
From our in-house research team to our client centric team, the experts at Greenleaf Trust work in collaboration with estate planning attorneys, certified public accountants (CPA), insurance and other industry professionals to provide client-specific solutions. With a shared commitment to our client's success, together we create financial security for generations to come.
What you can expect when working with Greenleaf Trust:
Our long-term business model is predicated on our clients' continuing success. The same Greenleaf Trust culture that elevates our clients' interests above all others compels us to harness the most robust technologies, sophisticated investment platforms and comprehensive reporting tools. And we hire the smartest, most conscientious people who are also a pleasure to work with.
We serve each client through a dedicated client centric team comprised of a trust relationship officer, a wealth management advisor and a team service coordinator. This team works in collaboration with other key professionals to provide our clients with a robust and holistic approach to wealth management.
Our client centric teams take a highly consultative approach by listening, guiding, educating and serving in a way that is meaningful on a personal level. This ongoing dialogue results in a comprehensive and customized financial plan which is regularly and rigorously evaluated.
With more than 170 team members working from Greenleaf Trust offices in Kalamazoo, Grand Rapids, Birmingham, Traverse City, Bay Harbor and Midland, our ratio of client relationships to client service teams is among the best in the financial industry.
Your partners are on our client centric team.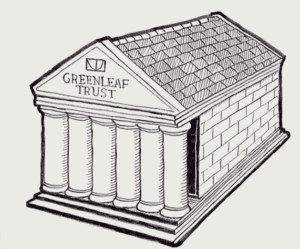 Our culture rests on these pillars.
The pillars of our core culture are the foundation of our success. We have no products to sell, only a service to deliver. Our independence allows us to always sit on the client's side of the desk while providing the highest levels of personalized service and fiduciary excellence. Our highly talented and experienced team members are passionate about listening, guiding, educating and serving clients in a meaningful and personal way.
Disclaimer:
Greenleaf Trust Delaware, a Delaware limited purpose trust company, is regulated by the Office of the Delaware State Bank Commissioner. Greenleaf Trust Delaware is wholly owned by Greenleaf Financial Holding Company, a Delaware corporation. Greenleaf Financial Holding Company is also the sole owner of Greenleaf Trust, a Michigan non-depository trust bank regulated by the Michigan Department of Insurance and Financial Services. Both Greenleaf Trust and Greenleaf Trust Delaware provide various fiduciary and non-fiduciary services, including trustee, custodial, agency, investment management and other non-depository services. Greenleaf Trust and Greenleaf Trust Delaware offer personal trust, retirement plan and family office services to families and entities.
Greenleaf Financial Holding Company and its subsidiaries do not provide legal, tax or accounting advice. Please consult your legal, tax or accounting advisors to determine how this information may apply to your own situation.