At Greenleaf Trust, our teams are dedicated to providing the highest level of comprehensive wealth management services, trust administration and retirement plan services.
Supporting your wealth, your life and your goals.
SEE OUR STORY
Committed to your success - no matter your goals.
Services
Our experience in wealth management, trust administration, retirement plan administration and family office services brings a focused and strategic approach to your financial goals. As one of Michigan's first privately held and managed trust-only banks, our independence frees us from conflicts of interest and ensures our clients' well-being is at the center of every decision we make.
Despite our name, you don't need a trust to work with us. Clients of all types and legal framework rely on us to meet their wants and needs. With approximately 170 team members working from Kalamazoo, Birmingham, Grand Rapids, Traverse City, Bay Harbor and Midland, we adhere to the highest standards of fiduciary excellence while providing customized solutions and highly personal service.
Proud to celebrate 25 sparkling years!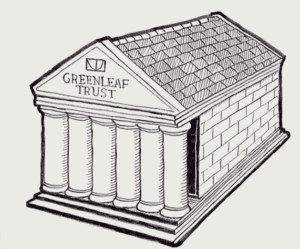 The pillars of our core culture.
Listen to our Chairman, William D. Johnston, share the pillars of the Greenleaf Trust culture.
Watch Video